REVOLVING CAKE STAND AND HOW ITS' WORK?
Thequalityproduct01

Sign in to make your opinion count.
Look Like This Post !
This turnable is made up of 100% safe food-stuffing and is suitable for everyone to use. The rotating cake stand rotates smoothly and shows almost every type of cake. It is the finest tool to decorate, icing, and serving cookies, pastries, and other desserts. It is made up of sturdy materials.

FEATURES:
✅ The stand offers smooth rotations quickly and easily. Feel relaxed when use, understanding that the stand is filled with food.
✅ The Cake table consists of a sturdy aluminum frame of the Fiberglass sheet.
The elevated platform gives full access to all parts of the cake and guarantees that the cake rotates easily.
✅ Non-stick platform and anti-slip base part.
✅ The turntable helps you to spin the pastry quickly so that it is easy to piping, smooth, and decorating cake. The rotating stand diameter is 30 cm, and 13.5 cm in height.
✅ Easy to clean and you can wash it in the dishwasher.
✅ Built from premium, robust, and sturdy materials.
✅ The Cake Decorating Turntable has an outstanding place for glazing and finishing on cookies, pastries, flans, and biscuits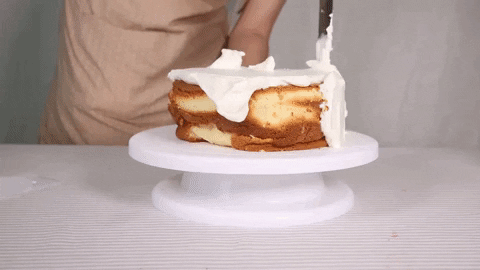 HOW TO USE 360 DEGREE ROTATING CAKE STAND?
You can use it for Christmas or cakes to show your children's cupcakes, fairy cakes, single-tier, multi-level, whatever you want. Some of our happy customers have bought our cake stand turntable as a gift for relatives, the family, and friends.
Decorate your home with Rotating Cake Stand for cakes and desserts. Stabilized, slip-resistant surface and platform help to protect the cake and the turntable stand.
PRODUCT SPECIFICATIONS:


A soft-grip ring, 11-inch platform, smooth-rolling, sophisticated, lightweight, durable parts and easier to rotate.


3-inch base with non-slip offers ergonomic height and locks for robust usage. Cakes stand up to 11 inches (or larger if on cake boards).


It is simple to decorate professional desserts at home by a cake-decorating turntable. Suitable for cake decoration, cake display, etc.


The unique shape and matte design of the surface, a good anti-slip action, not easy to slide.


PACKAGE INCLUDES:
1 x White BPA Free Plastic 360 Degree Rotating Cake Stand Turntable for Decoration 28 cm
Take care while Using


We suggest that clean the turntable with detergent when used for the first time and then rinse.


Put it on a flat surface while you are using it to avoid smashing, also, do not insert large items at the turntable.


The permissible size variations typically range from 2 to 3 cm.


Owing to the variation in the color of various machines, regardless of your perception the color of the object should be significantly different from the above pictures.


Get Maximum Result To Your Post - Share To All
Articles
Article Categories